About Optimal Health Chiropractic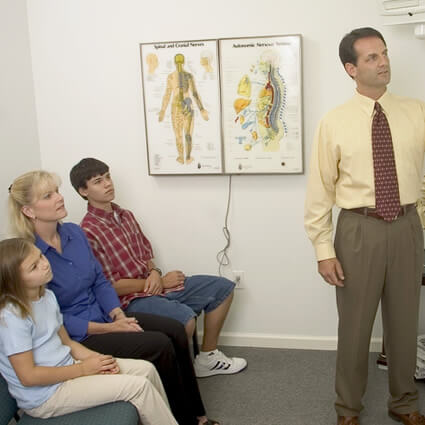 Dr. Michael McKelvey has been in practice for 30-plus years, after earning a Doctor of Chiropractic at Los Angeles College of Chiropractic. He established Optimal Health Chiropractic to help people regain their health naturally through chiropractic care.
Along with Dr. McKelvey's comprehensive approach to health, he educates patients so they have an understanding of how to get healthy and remain that way for life.
Caring for Multiple Generations
Everyone is welcome at Optimal Health Chiropractic. Dr. McKelvey particularly enjoys seeing parents and their children together. He often gives babies, children or even teens their first-ever chiropractic adjustment and loves to introduce them to the world of natural healing.
Dr. McKelvey is also experienced in prenatal care and can help your body cope with the changes of pregnancy and prepare for delivery.
His patients even include grandparents and great-grandparents who want to make the most of their golden years. If you're retired, you don't want to feel beat down from years of working. You deserve to maximize your enjoyment during these years!
Another group that Dr. McKelvey often works with is athletes. From high school to collegiate and even professional athletes, any activity level should have a chiropractor on their health team. Since Dr. McKelvey is a sports chiropractor, he can adjust any area of the body, including all extremities. Having access to comprehensive care is necessary for any athlete to perform at their best!
Have you ever wished you could wind back the clock when it comes to your health? If everyone was under chiropractic care, we would not be going through the current health care crisis. There would be no need to worry about expensive medications because you would not be on them.
That's why chiropractic should be a part of everyone's lifestyle starting from the time they are born. It breaks the medical cycle of taking drugs, more drugs and then eventually having surgery. You can prevent these issues from happening in your life with regular chiropractic care.
Find the Answers You've Been Waiting for
Many of our patients go to various specialists without getting answers. They find their way to Optimal Health Chiropractic and haven't gotten the correct diagnosis. Dr. McKelvey often sees this type of patient, who is then thrilled when they get honest answers and the results they've been hoping for through care. An example is one patient who saw Dr. McKelvey decades ago who he helped get rid of her severe headaches which had plagued her for three years. Even now, she continues to send Dr. McKelvey cards several times a year to thank him for the difference he made in her life.
You can be the next success story!
MEET DR. MCKELVEY
Attend a Free Workshop
Dr. McKelvey holds workshops at no charge. These are given on-site, and various topics are covered such as how to improve your energy, preventing carpal tunnel syndrome, sports, nutrition and health. They give you an opportunity to learn more about getting empowered to take control of your life and promoting your health. Contact Optimal Health Chiropractic today to inquire about our next event!

Optimal Health Chiropractic | (843) 524-4325