Our Services at Optimal Health Chiropractic
Optimal Health Chiropractic is a spacious facility that houses many of the latest advances in the chiropractic and health care fields. When you become a patient with our team, you will have access to all of it.
Chiropractic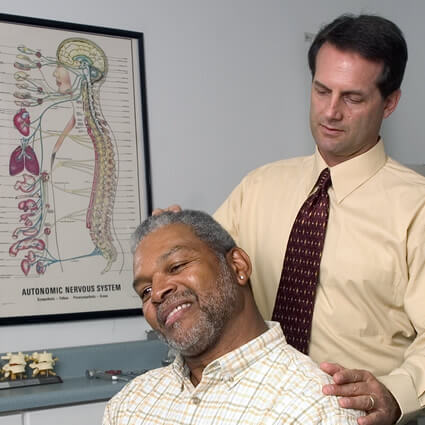 Our cutting-edge techniques are designed to restore your proper spinal alignment and posture. They're heavily based in science and have been extensively researched for their efficacy and are appropriate for nearly anyone.
Sports Chiropractic
An athlete at any level should have a chiropractor on their team. Chiropractic can help you recover from a particular injury and get back in the game faster, or to enhance your overall performance.
Pregnancy Chiropractic
Dr. McKelvey is well-versed in providing prenatal care at all stages of pregnancy. You can live without the aches and pains pregnancy typically brings on and make sure your body is well-prepared for your baby's upcoming birth.
Pediatric Chiropractic
Children, just like adults, have a nervous system that controls every function in the body. You can start your kids off on the right foot by beginning chiropractic care early in life. Dr. McKelvey is skilled in adjusting children of all ages, from newborns to teenagers.
This advanced technology was developed in conjunction with NASA. It involves a handheld tool that applies a varied impulse at times your body won't anticipate, making sure it cannot resist the corrections being made. The result? A gentle, long-lasting adjustment.
Sacro Occipital Technique®, or SOT, is a gentle technique that involves the use of blocks. These blocks are applied around the pelvis area so that it can go gently back into place without being forced.
Class IV laser therapy is used by professional and elite-level athletes to accelerate their healing. If you have had an injury, the laser can be applied to promote your recovery.
Custom orthotics from Foot Levelers are available at our office. We'll use a computerized 3D Body View® scanner to get a map of your feet and create the exact orthotics that will work to support your feet-the foundation for the rest of your body.
Do you have questions about your diet? Dr. McKelvey works with Standard Process, having completed training with this whole foods manufacturer. He carries their lines of products and will recommend them to you as appropriate.
If your spine is out of alignment, you want to make a correction that lasts. Traction is available in four different types at our office, which will apply the corrective force you need.
Resources
Informational Articles and Video:
Take the Next Step
Contact Optimal Health Chiropractic now to schedule a same-day appointment!
CONTACT US

Optimal Health Chiropractic Services in Beaufort, SC | (843) 524-4325